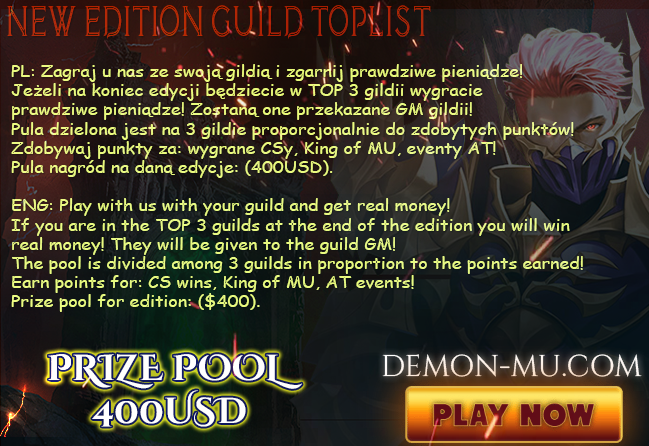 The prize will be sent within 30 days from the start of the new edition!

ACTUAL PRIZE POOL: 400 USD
BONUS POINTS FOR GUILD:
- WIN CASTLE SIEGE: 500 POINTS
- WIN KING OF MU: 300 POINTS
- COMPLETE 30 QUEST SYSTEM : 200 POINTS
- AT/GM EVENTS
We will inform about END EDITION 14 days before the end on the main page.

BONUS POINTS:
Bonus points are added once to the guild you choose.
It cannot be changed later!
1. 30 QUEST COMPLETE - 200 POINTS
- MaxiKnight - Pay2Win
- Asfalt - Pay2Win
2. WIN CASTLE SIEGE - 500 POINTS
- Pay2Win- 04/06/2023
3. KING OF MU - 300 POINTS
- --------- - 09/06/2023
4. AT/GM EVENTS - PRE-EVENTS POINTS